Without a doubt we live in an era in which the cartoons of the supersonic have ceased to be merely fantasy and many of their inventions have become reality. But although we could get to control our entire home from the comfort of the device which today can hardly live, many people do not try for fear of how difficult it can be, and not only talk about home automation I speak in a more general way as using Google and Alexa to remind us of any outstanding task we have or tasks that are often repetitive and annoying on our computers such as renaming thousands of files.
Now I think that many people are inhibited from trying to use all the automation tools available today for fear of not knowing how to use them which if you think about it is a little silly because behind every "futuristic" tool there is a whole team of engineers who devote years of research and development to make them as friendly and simple to use.
Another problem that people see when automating their homes is the fact that the solutions that exist today not only require a technician to help them configure their devices but also need another professional to install the automation system in their homes which in many cases requires opening the wall to put cables and other paraphernalia in addition to the high cost of both acquisition and maintenance of the system.
I have talked to several friends who have Automation from other well-known brands, and they have told me all the suffering they went through while having everything installed, not to mention the high cost they paid. The worst thing is that nowadays they hardly use it, and they still press buttons on the wall to play their scenes or they were given a remote control to control their house……Another new remote control?? who wants them today?
But for those people who want to automate their home I say do not fear U-WIGO comes to the rescue with its simplicity at the time of installation as it is plug and play, in addition to its extremely intuitive application to configure all devices in the house, its low cost and almost no maintenance and that after purchased is a low power consumption appliance and if that were not enough is portable so you can take it to everywhere you go.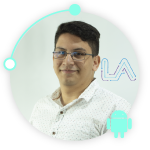 Andrés Maldonado – FrontEnd Developer