In reality this alliance is not new, health is always innovating in processes, equipment and procedures but what is different and important to this blog is consumer technology, all health advances are aimed at a specific audience, whether a product for health professionals or institutions (hospitals and / or clinics) or for patients, this by mere market dynamics and production makes the products are expensive, because there are few buyers among which to distribute production and development costs, sometimes not very accessible to those who really need it, although it sounds a little ugly is so that companies can survive and continue producing, but now there is a new aspect of implementation of mass consumer technology such as automation, gadgets and wearable.
Advances are to improve certain points or previous shortcomings and move towards a new path with great expectations, we are already on that path with the creation of the internet and smartphones, a network and a device that allows us to enter this with great ease and speed, opening the doors to endless information and entertainment, Thanks to this great revolution appeared gadgets, wearables and home automation, but now they are called to not only improve the quality of life of all people, without discrimination of diseases, two branches of inclusive products can be separated:
Wearables, devices that we always carry with us as the smart watch and smart band initially designed for athletes and exclusive people, now there are many people who are not part of this group that buy these devices because it helps us a lot in the day to day, thanks to them we can measure many important health variables, such as sleep, heart rate, breathing, number of steps, physical activity and even detect falls, Previously there were products capable of making these measurements, but they did not have the facility to synchronize the data with the phone, this ability is the most important because it allows you to have a history and see a progress, if you are a person with a health problem for your doctor can be very helpful to see this balance and check that the treatment is working or this data can encourage you to lead a healthier life, raising awareness of self-care and prevention.
The other branch is the products that are in the home, gadgets like a scale or an air purifier or those devices that are part of the automation, this category is inclined to assist and improve the conditions of the home, relieving unnecessary or tedious tasks for certain public, this is something that many of us can analyze, we wonder what tedious or unnecessary tasks exist in a home, everything is depending on the public, for a person with obesity is difficult to move around your home to turn off all the lights at night, look for the remote control or open the windows because there is moisture in your room, for older people tend to forget where to place things, water the plants or must do certain activity.
All this shows us that technology is inclusive, it has the potential to help everyone, we just need to apply it correctly, to present the help to the people who need it, that the general public changes the paradigm that technology is for young people or for those who know how to use it.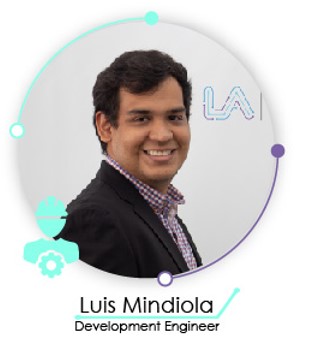 Luis Mindiola – Mechatronic Engineer