In previous blogs we already talked about the IOT, what it is and why it is so important, today I want to show you its most important uses and applications on several industries.
The applications of IOT are multiple, since it is adjustable to almost any industry that is capable of providing relevant information about its own operation, about the performance of an activity and even about the environmental conditions that we need to monitor and control remotely.
We know that this technology is having an abysmal growth in recent years and this year we will be able to learn and see much more this technology for all the current situation in which we are by the pandemic, not only in technology companies but in all industries as we will see below.
The use of wearables or sensors connected to patients, allows doctors to monitor their conditions, outside the hospital and in real time. By receiving automatic metrics and alerts about their vital signs, the Internet of Things helps to empower care control and prevention of lethal events in high-risk patients.
When we use our cell phones as sensors, which collect and share data from our vehicles through applications such as Waze or Google Maps, we are making use of the Internet of Things to inform us and at the same time contribute to traffic monitoring, showing the conditions of the different roads, and feeding and improving the information about the different routes to the same destination, distance, estimated time of arrival, all this contributing to the concept of smart cities.
The application of the IoT to the hotel industry, brings interesting improvements in the quality of service. Since the implementation of electronic keys can be given, which are sent directly to the mobile devices of each guest, it is possible to automate various interactions, this is very practical at this time with all the biosecurity measures that are being implemented by the current pandemic.
Thus, the location of guests, sending offers or information about activities of interest, placing orders to the room or room service, automatically debiting accounts to the room or others, are activities that can be easily managed through applications integrated to the Internet of Things technology.
The progressive use of intelligent energy meters, or meters equipped with sensors, and the installation of sensors in different strategic points that go from the production plants to the different distribution points, allows a better monitoring and control of the electrical network.
It also allows providing valuable information to the end user about their consumption patterns and about the best ways to reduce or adjust their energy expenditure.
Last but not least, we have one of the best-known uses:
Virtual glasses, fitness bands for monitoring caloric expenditure and heart rate, or GPS tracking belts, are just a few examples of wearable devices that we have been using for some time. Companies like Google, Apple, Samsung, and others have developed and introduced the application of the Internet of Things to our most practical everyday life. These are equipped with sensors, with the necessary hardware to perform measurements and readings, and with the software to collect and organize data and information about users.
As we can see the IoT is evolving and is being experimented and used in tons of different ways than you can ever imagine, what we can be sure of is that it is a technology that arrives at the right time to help overcome this current situation.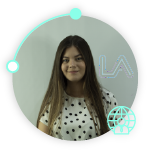 Nicole SanMiguel – Foreign Trade