Surely you have heard about IoT, if not, you can take a look at our previous post for a more in-depth description, but for a quick response, IoT refers to all the common household devices that are connected and controlled via internet, even if they need a hub to create this connection.
Today we have a compilation of devices if you would to like to have not only a fully automated home, but also a complete flex-showroom of IoT.
1. IoT Devices: to begin, we need devices to control like:
a. Smart Locks
b. Smart CCTV
c. Smart Alarms
d. Smart Garage Doors
e. Smart TV
f. Smart AC
g. You can opt to convert your legacy devices (TV, HOME THEATER, AC) with a smart hub like U-WIGO.
h. And so on…
2. IoT Devices for the things you didn't expect:
a. Smart Frigde: Samsung Smart Refrigerator: Family Hub Touchscreen Fridge |     Samsung US
b. Smart Range: Best Range Features | Smart Ranges & Stoves | Samsung US
c. Smart Washer: 5.0 cu. ft. Smart Front Load Washer with Super Speed in Black       Stainless Steel Washer – WF50R8500AV/US | Samsung US
d. Smart Vacuum Cleanner: iRobot® Roomba® s9+ Robot Vacuum & Braava jet® m6 Robot Mop Bundle
e. Smart Water Meter: Acoustic leak detection with Kamstrup water meters
f. Smart Energy Meter: Sense: Track energy use in real time to make your home more energy efficient.
g. You get it now, there is IoT for everything…
3. IoT Control: so now you have your house filled with IoT devices, and a truck load of apps to control them, if you choose correctly and selected the same brand if possible, you could get away with just a few 4-5 apps. This is still to messy, so let's centralize it a little bit. Here you can pretty much pick your poison, all of them have a mini version and a fully blown audio boosted version.
a. Google Home Assistant: is a voice assistant made by Google of course, that has a great voice integration and recognition.
b. Alexa: this one is made by Amazon, and it has a good voice recognition and some extra integrations with Amazon products that help one in a while.
c. Siri: I really don't recommend going with the Apple one, since is a lot behind in voice integration, recognition, features and so on, but is still an option if you like.
4. IoT Specials: this one is a clear flex, you absolutely don't need these, but we are wasting money so, why not:
a. Home Companion Robot Aido: Aido: Next Gen Home Robot | Indiegogo
b. Smart Toilet: The Noken Smart Toilet | Noken
c. Smart Shower: U by Moen | Smart Shower
So this is the world we live in right now, you can find almost all your home devices in "IoT flavor", however being able to, not necessarily translates to must buy, What do you think?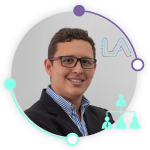 Oscar Alvarez – Mechatronic Engineer