Description
Smart Hub U-WIGO Lite is a basic version of our Smart Hubs range, think of it as a smart satellite that will integrate all your IoT devices combined with our Artificial Intelligence technology just notice that with this smart hub you will control a variety of IR (Infrared) and your IoT devices, such as TVs, DVDs, ACs, Home Theaters, switches, among others.
This smart hub gives you the possibility to upgrade your smart home automation game, this way you can combine the smart hubs you need depending on your connection needs and devices you owned in any space of your home or office.
U-WIGO Lite is the basic presentation of our smart hubs, this acts as the Satellite or better said as the Brain of our home automation system.
This version of Smart hub will empower you to:
Connect your devices and make them work together.
All through the U-WIGO CONNECT APP receive alerts from all the connected devices.
Automated turn it off and on.
Save yourself time and energy by setting zones and scenes.
The easy and wireless way to turn your home into a smart home.
Set automatic routines when you left home.
Control your lights, electronics, and even small appliances all from your smartphone.
You will be able to check the temperature and humidity of all your zones.
Multiple connections as IR and WiFi.
Control and manage more than +500.000 different compatible devices or appliances.
Compatible with – GOOGLE HOME & AMAZON ALEXA.
Supply mode: 5Vdc/500mA
Rated Voltage adapter: AC100V-240V (50-60Hz)
Wireless Standard: IEEE802.11b/g/n
Working Frequency: 2.412- 2.484Ghz
Static power loss: <0.5W; Working Environment: -20°C@75°C
Working Humidity:<95%; Infrared 360°, Radio Frequency 433Mhz
Bluetooth 4.2
Controlling distance: NO distance limitation
Product size: 83*25mm.
AI Acceleration Support: Support for vector instructions in the MCU, which provides acceleration for neural network computing and signal processing workloads.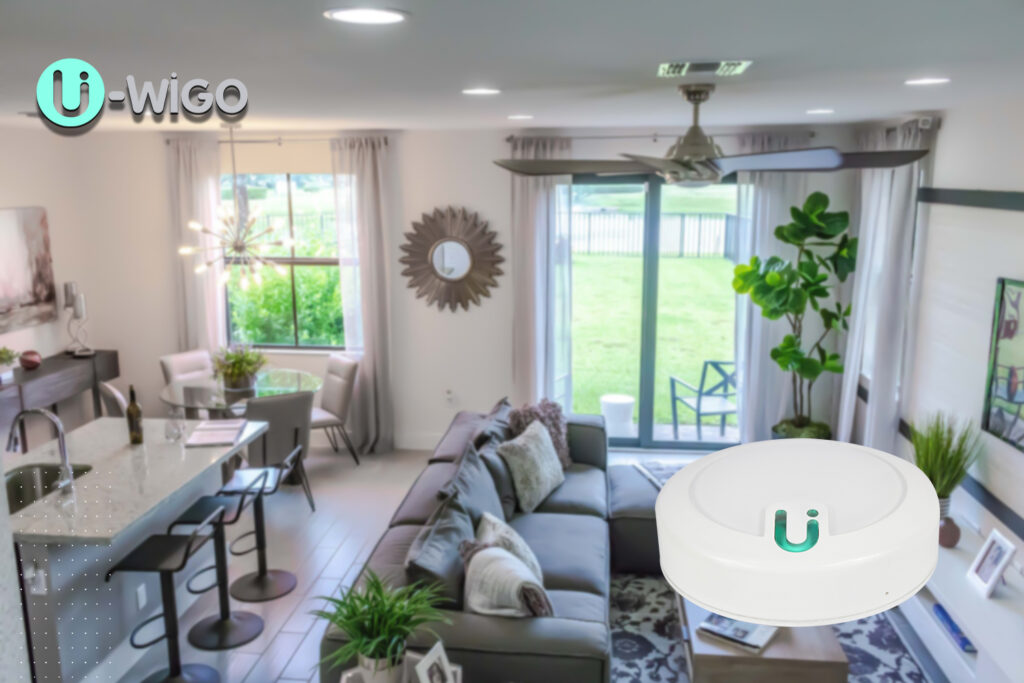 SMART HUB U-WIGO LITE allows you to Automate all your spaces, the smartest way to experience home automation.
U-WIGO Lite Smart Hub has available Wi-Fi and IR connections built-in, making it an ideal addition to any smart home automation system.
You will control, manage and supervise the use of all the home appliances you sync on the U-WIGO CONNECT APP.
Products related to this item