Description
U-WIGO is a Smart Hub that integrates IoT and AI technology. With our smart home hub, you will able to control a wide variety of Infrared and Radiofrequency devices, such as TVs, DVDs, ACs, Home Theaters, Curtains, Ceiling Fans, switches, among others.
Today's homes are filled with electronic devices some are regular and others have a wide variety of connections this challenges homeowners in order to create a cohesive and seamless experience that unites all of their devices together, therefore, now more than ever the importance of having a powerful yet simpler way to control all, this can be achieved with our U-WIGO smart home hub in addition to our smart home system products U-NIV3RS3.
THE U-WIGO SMART HUB IS THE MAIN COMPONENT FOR ANY SMART HOME, IT ACTS AS THE BRAIN OF OUR HOME AUTOMATION SYSTEM.
By setting up and controlling all your appliances and devices at your home through your mobile phone with the U-WIGO CONNECT App, you will be able to monitor power consumption, remotely lock or unlock doors and many more features available.
Our Smart hubs will allow you to:
Connect your devices and make them work together.
All through the U-WIGO CONNECT APP receive alerts from all the connected devices.
Automated turn it off and on.
Save yourself time and energy by setting zones and scenes.
The easy and wireless way to turn your home into a smart home.
Set automatic routines when you left home.
Control your lights, electronics, and even small appliances all from your smartphone.
You will be able to check the temperature and humidity of all your zones.
Multiple connections as IR, IoT, Bluetooth, RF, and WiFi.
Control and manage more than +500.000 different compatible devices or appliances.
Compatible with – GOOGLE HOME & AMAZON ALEXA.
Supply mode: 5Vdc/500mA.
Rated Voltage adapter: AC100V-240V (50-60Hz).
Wireless Standard: IEEE802.11b/g/n.
Working Frequency: 2.412- 2.484Ghz.
Static power loss: <0.5W; Working Environment: -20°C@75°C.
Working Humidity:<95%; Infrared 360°, Radio Frequency 433Mhz.
Bluetooth 4.2.
Controlling distance: NO distance limitation.
Product size: 83*25mm.
AI Acceleration Support: Support for vector instructions in the MCU, which provides acceleration for neural network computing and signal processing workloads.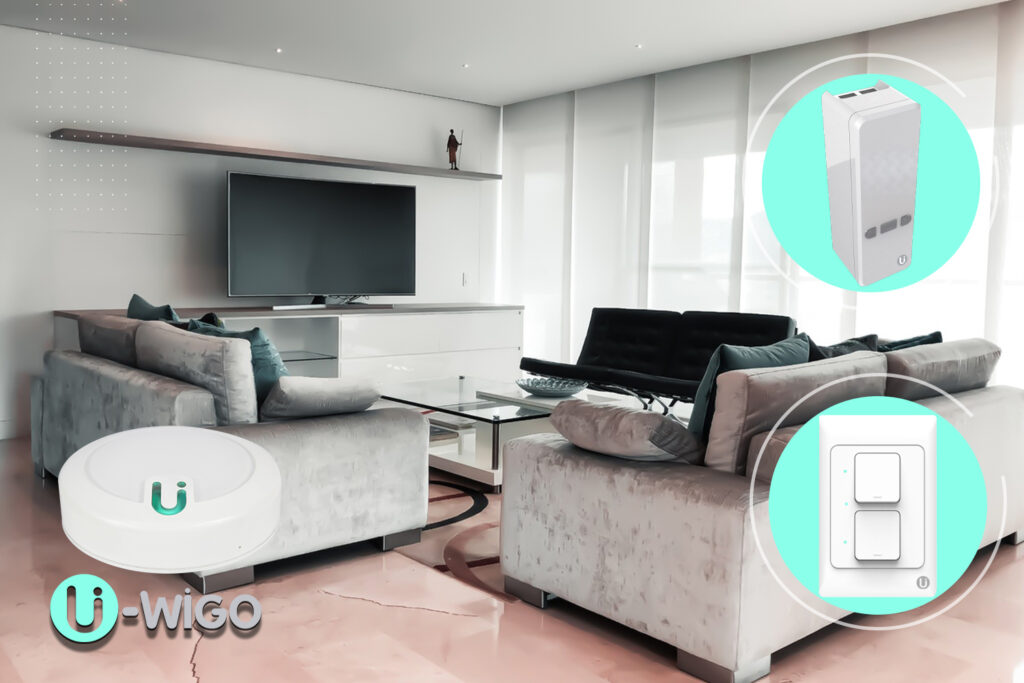 CREATE THE PERFECT HARMONY SPACE WITH A SINGLE TAP ON YOUR PHONE.
You don't need to worry about your internet connection since U-WIGO has offline capabilities. This means that, if your internet has problems connecting or if you want to be disconnected from the world and turn off your Wi-Fi you just need to use the Bluetooth mode on your U-WIGO, by doing so, you will continue to manage all your devices.
Products related to this item
+500K PRODUCTS, CONTROL EVERYTHING AROUND YOU FROM YOUR MOBILE PHONE