Description
U-Blinds is a motor for your regular curtains that is going to let you control them at any time, no matter where you are through your Smartphone with U-WIGO Connect App.
Our entire ecosystem was designed, created, and built to be managed for all users.
U-WIGO CONNECT APP is a friendly and simple interface that allows you to easily set up and utilizes your devices and gadgets either Iot, IR, RF, or BL all of them on your phone.
DISCLAIMER:
In order to perform adequately, all U-NIV3RS3 products must be connected through any of our U-WIGO devices.
Control your U-Blinds from wherever you are through the U-Wigo Connect App.
Be able to program scenes of your blinds for your comfort.
U-Blinds also works with Alexa and Google Home.
U-Blinds come with a rechargeable battery and works on a frequency of 433 MHZ.
The installation is very simple.
Works with any plastic beaded chain or metal beaded chain that is looped.
It is the best choice for blinds automation.
Rated Voltage: 12V/1A.
Adapter rated voltage: AC100V‐240Vac (50‐60Hz).
Communication Frequency: RF Type 433Mhz.
Wireless estándar: IEEE802,11b/g/n.
Working Frequency: 2,412‐2,484Ghz.
Static Power loss:<0.5W.
Working Environment: ‐20C°@75°C.
Working Humidity: <95%
Touch life: Over 100 thousand times
Controlling Distance: no distance limitation
Maximun Blinds size: 8ft(2.5m)*8ft(2.5m) suitable Chain and cord.
ETL adapter.
CE Certificated.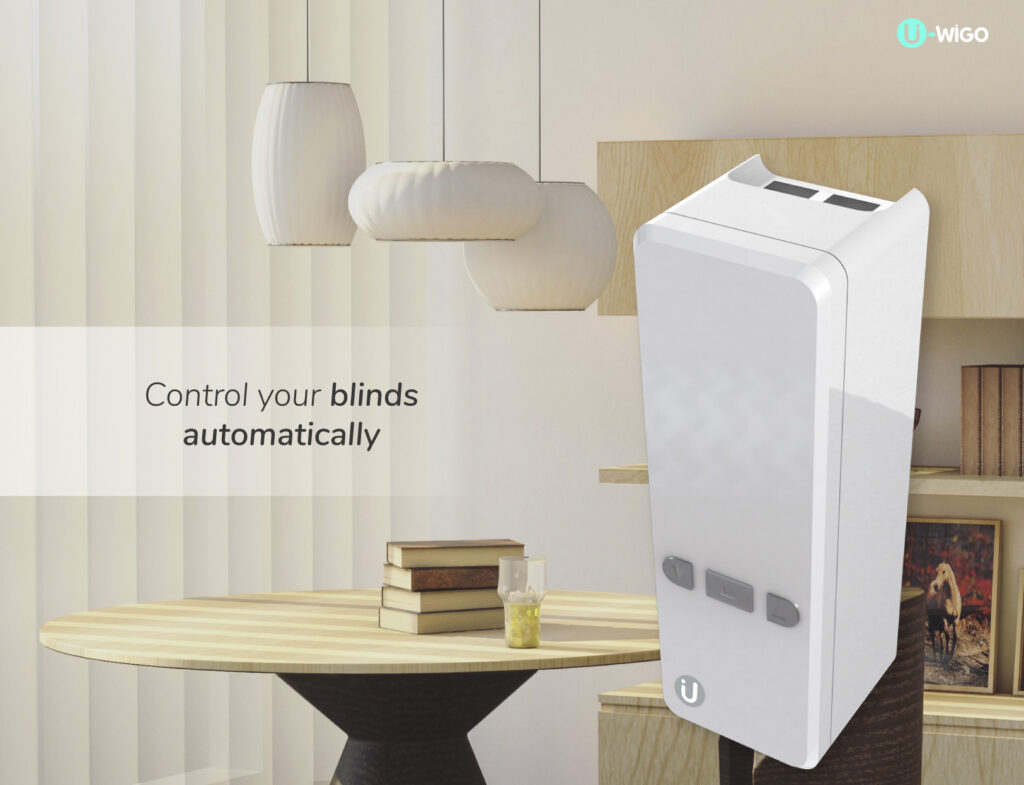 OUR AUTOMATION SYSTEM WILL ALLOW YOU TO CREATE A MORE COMFORTABLE LIVING SPACE FOR YOU AND YOUR LOVED ONES.
Our solution for the automation of your curtains comes in the shape of the smart blind U-BLIND.
The U-BLIND belongs to our U-NIV3RS3 ecosystem created to fulfill all your home's basic installation and domotic needs.
Products related to this item