Description
This smart dimmer U-DIMMER easily connects with your U-WIGO to give you wireless control of your lights.
You can easily set the mood of any room and control your lights from anywhere with the U-WIGO CONNECT APP. Whether you're relaxing on the couch or on vacation, you can control and dim your home lighting from anywhere, you can also control U-DIMMER with Alexa and Google Home.
DISCLAIMER:
In order to perform adequately, all U-NIV3RS3 products must be connected through any of our U-WIGO devices.
With U-Dimmer you can remotely dim and control your home's lights from anywhere with U-Dimmer Switch.
Provide the best dimming performance for your home lights.
The U-Dimmer switch connects to your iOS or Android device giving you access to your lights through the U-Wigo Connect app.
Works with Alexa and Google Home.
Once connected, you'll be able to control the brightness of your lights and set light scenes to best suit your needs.
Easily set the ambiance of any room and dim your lights from anywhere.
You can create scenes of the lights to turn on at any time you want.
Rated Supply mode: Neutral+live wire.
Rated Voltage: AC100V‐240Vac (50‐60Hz).
Rated Power: 400W (INC), 150W (CFL& LED).
Wireless estándar: IEEE802,11b/g/n.
Working Frecuency:2,412‐2,484Ghz.
Static Power loss:<0.5W.
Working Environment: ‐20C°@75°C.
Working Humidity: <95%
Touch life: Over 100 thousand times.
Controlling Distance: no distance limitation.
Product size: 120*70*35mm.
FCC‐ETL CERTIFICATED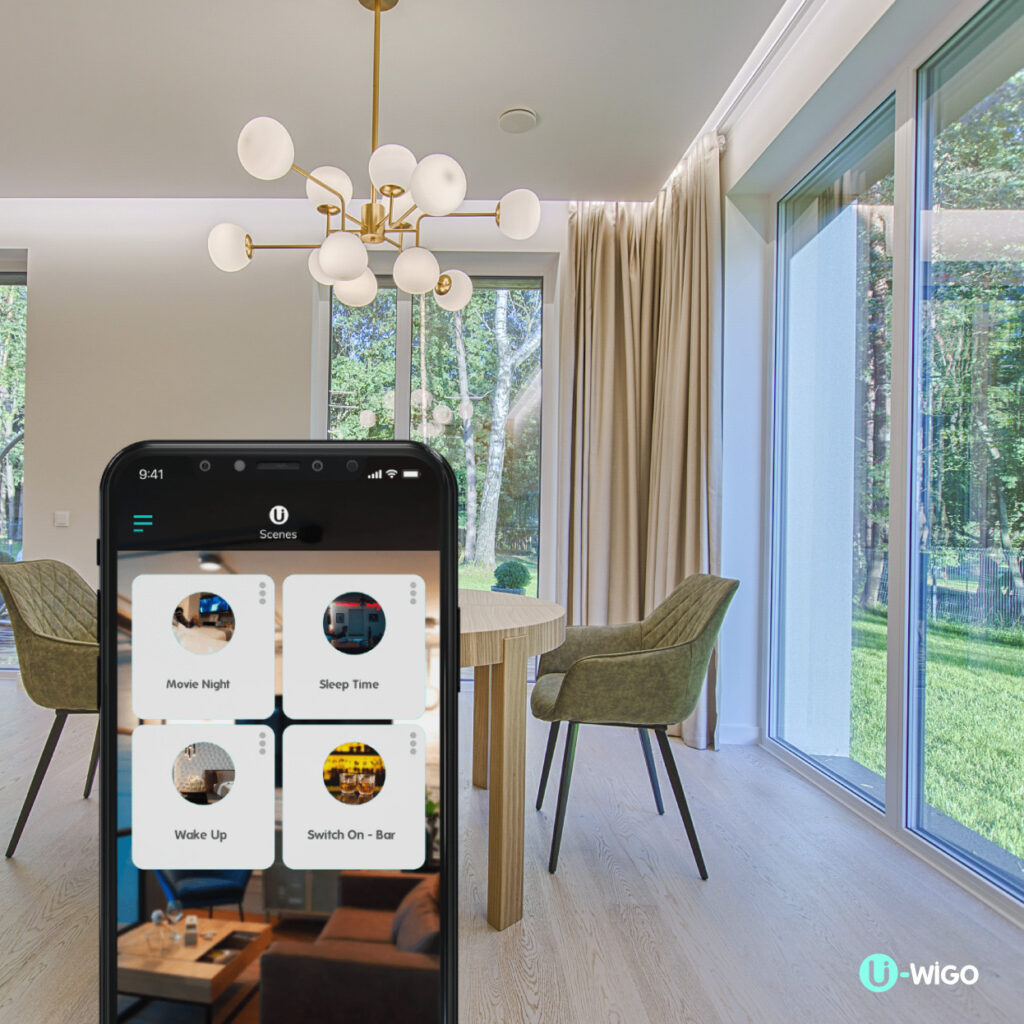 CREATE THE PERFECT HARMONY SPACE WITH A SINGLE TAP ON YOUR PHONE.
Control the ambient of any space with a single touch of a button from anywhere using the U-WIGO CONNECT APP. Create scenes with your U-NIV3RSE devices to control your entire home.
Products related to this item