Description
U-WIGO+ SMART HUB is the enhanced version (an additional feature of 140° camera) of all of our smart hubs.
The U-WIGO + is our most advanced version from the Smart Hub range. Similarly, as our standard U-WIGO smart hub, all of them share the same capabilities simply this version comes with a plus.
U-WIGO + comes with multiple connections allowing you to control +500K devices either on IR (Infrared) and RF (Radio Frequency). This Smart hub integrates the Internet of Things and Artificial Intelligence technology resulting in an elevated home Automation experience that you can apply in all your spaces from home to office, this smart hub of easy installation and easy to use will adapt to your needs seamlessly.
The best feature of this smart hub is that it comes with a 140° fisheye camera which helps you assure your scene is being executed correctly.
Smart Hub U-WIGO+ will allow you to:
Take a capture* of your zone in order to be sure that your scene is executing as you desire.  *(JUST A CAPTURE WHEN THE USER AUTHORIZE).
Connect all your devices and make them work together.
All in just one app, through the U-WIGO CONNECT APP, you will manage and receive alerts from all the connected devices.
Schedule and automate turn it off and on of your appliances.
Save yourself time and energy by setting zones and scenes.
The easy and wireless way to turn your home into a smart home.
Set automatic routines when you left home.
Control your lights, electronics, and even small appliances all from your smartphone.
You will be able to check the temperature and humidity of all your zones.
Multiple connections as IR, IoT, Bluetooth, RF, and WiFi.
Control and manage more than +500.000 different compatible devices or appliances.
Compatible with voice assistants – GOOGLE HOME & AMAZON ALEXA. 
Camera: 140° fisheye to capture scenes.
Supply mode: 5Vdc/500mA.
Rated Voltage adapter: AC100V-240V (50-60Hz).
Wireless Standard: IEEE802.11b/g/n.
Working Frequency: 2.412-2.484Ghz.
Static power loss: <0.5W; Working Environment: -20°C@75°C Working Humidity:<95%.
Infrared 360°Radio Frecuency 433Mhz.
Bluetooth 4.2,
Controlling distance: NO distance limitation.
Product size: 96*29mm.
AI Acceleration Support: Support for vector instructions in the MCU. Which provides acceleration for neural network computing and signal processing workloads.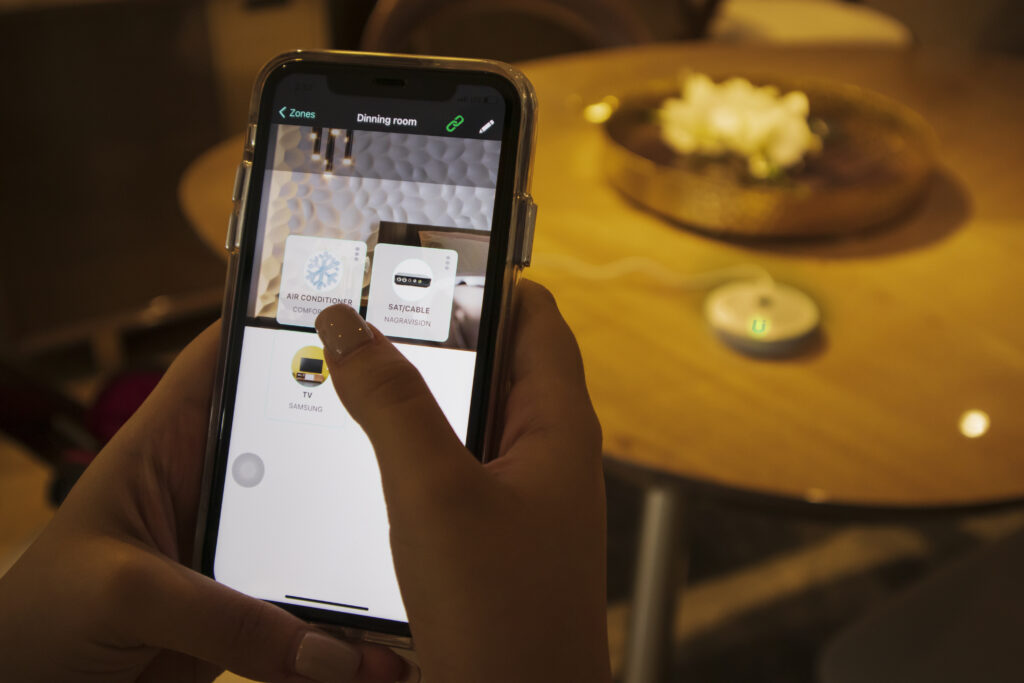 WITH U-WIGO+ SMART HUB YOU WILL SAVE MONEY AND TIME WHEN AUTOMATING YOUR HOME.
After automating your spaces with our home automation solutions, smart homes will no longer imply "expensive" "exclusive to a select group" "difficult, or a big effort to configure"  "messy wiring and huge renovations".
With U-WIGO+ you have the perfect solution to solves all of your automation problems.
Products related to this item